Video Interviewing During the Pandemic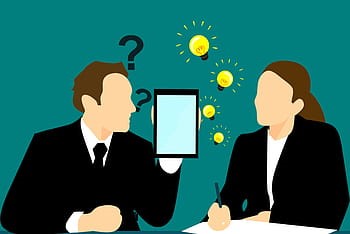 Getting ready for a video job interview is like getting ready for an in-person interview. You want to be prepared and looking sharp. Here are some helpful tips to help you stand out in your next video interview!
Getting Started with a Video Interview
Download the requested app before your video interview. An optional idea to consider is to download it on each compatible device that you use regularly; this means your cell phone, laptop, tablet, and desktop computer. This way, if one device fails in the middle of a call you will be able to quickly resume the conversation on another device. Test the video application on each device a few days before your scheduled interview call. Schedule a practice call with a friend or family member to test your connection, background noise, and for potential workspace distractions. Which device did you like best? Did you feel more comfortable using your cell phone for the video call or maybe your desktop computer?
If You Are Using the Zoom Video Interview App
If you are using Zoom for your job interview, then expect the interviewer to send you a link for the upcoming Zoom meeting. Store this link somewhere easily accessible. I recommend adding it to your online calendar. Set a notification on your calendar for about 15 minutes before the interview.
Setting Up Your Workspace Before a Video Interview
It is hard to know what exactly will be in view of your camera without testing it first. A little secret I found useful is right before each video call, open your camera app and get ready for a selfie! The camera app will display exactly what the interviewer will see during your Zoom call. Making a good impression starts with feeling confident and comfortable. Take a look at your outfit. Are you wearing proper interview attire? Pay attention to your background as well. If something stands out to you it is sure to be a distraction to your interviewer. It doesn't have to be perfect; just focus on eliminating potential distractions. We are all new to this kind of interviewing. It's okay if it feels awkward. Prepare for the job interview ahead of time to help boost your confidence during the interview.
During Your Video Job Interview
The video interview has begun! Listen carefully for the interviewer's name then repeat their name back. For example, say, "Thank you, [interviewer's first name], for taking the time to meet with me today." They will be impressed plus it will help you remember the job interviewer's name for when you write a follow-up thank you email. During the video interview, it will be tempting to glance at your own, image but try to keep eye contact with the interviewer instead. Practice looking into your webcam as you speak.
Video Job Interview Summary
Set a calendar reminder to help you stay organized and on time. Keep your workspace background tidy and simple. Make eye contact with the job interviewer. Always test the video application before each job interview. Be dressed in professional clothes just as you would for an in-person interview. Anticipate issues ahead of time and don't hesitate to contact your Real Recruiter at Personnel Source if you have questions or concerns!
Back to news Listings